Shacks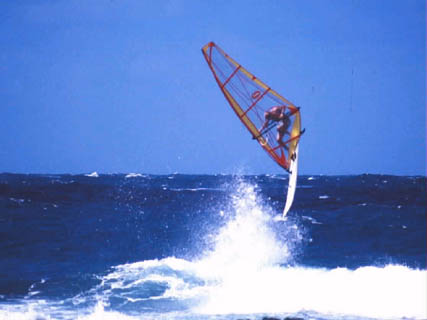 Puerto Rico
The place to be next winter, by Jose R. Pla
If Puerto Rico has been called the "Maui of the Atlantic"
definitely its for this place.
Shacks: the wavesailing spot of the Caribbean. Is located on the northwest of the island of Puerto Rico in the town of Isabela. The conditions are just great. Warm water all year around, head to mast high waves, no crowds and the best wind in the island. Shacks is the windiest spot on Puerto Rico, with 5.0 or less sailing conditions. Although Shacks might get by as an intermediate spot when the waves are small, it's definitely an expert-only break when the places goes off.
Shacks's wave is hollow and pitches over a shallow and sharp coral reef, but is just a manner of learning how to sail the place to avoid a painful experience. Just right to the side of Shacks's wave is a coral reef protected area where you can find warm calm water for an excellent snorkeling experience.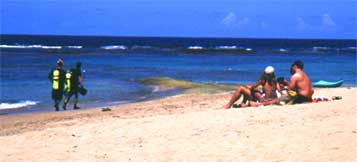 This area offers a great scuba-diving experience in summer or flat-water days, where you will find underwater caves that will take you across the reef.
When to Go
Shacks goes off in the winter season, from December to April. During this period you can expect winds of 18 to 30 knots blowing side off to side shore and head to mast high waves, starboard-tack jumping.
Things to Do
You will find a lot of things to do in Shacks. In the morning the waves are perfect for surfing since the wind starts blowing after 10:00am. From 11:00am to 5:00pm is windsurfing time. At 5:00pm you can go on a horse riding tour until sunset or just sit at the beach and watch the beautiful sunset. For horse riding you need to call earlier to make reservations: Tropical Trail Rides ( tel. 787-872-9256).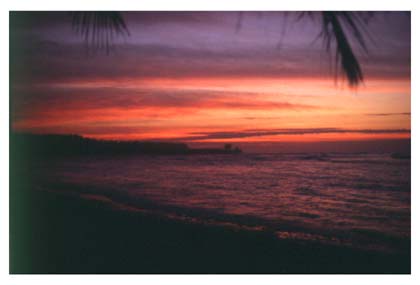 Dinning and Party
In the night there are some good places to go dining before you go party. Just east to Shacks is Jobos' beach here you will find Happy Bellys where they serve some great home-made hamburguers. Another place west of Shacks is Rosalinda's ( tel. 787-890-5531 ) where you will find a great seafood and Mexican menu and the coldest beer at a great price.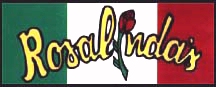 After you eat and rest you can go party to Carambola, east side of Rosalinda's, here you will find and nice and friendly environment, late in the night there is a pub call Sunset, next to Jobo's beach, this is the place to go party all night long.
Place to Stay
Finding a place to stay in Shacks is the easy part. Shacks is the only place in the island were you can rent a house just in front of the beach. Imaging renting a house in front of Ho'okipa for a whole month. You will find some great apartments in front of the beach at Villa Montaņa ( tel. 787-872-9553 ). Another good place to stay is in Ocean Front; at Jobo's beach 3 minutes from shacks.
Best way to get to Shacks
The best way getting to Puerto Rico is taking a flight directly to Aguadilla's airport which is 5 min. from Shacks but if you are not this lucky take a flight to San Juan airport.
From San Juan the best way to get to Shacks is by renting a car. By renting a car you won't have any problem, just bring two long straps and strap your equipment to a Toyota Echo ( #1 rent car in Puerto Rico ) and prepare for a 2 hours trip to Shacks, Isabela.
Car rental is easy but you should call in advance for the beast deals. Try calling Charlie's Car Rental ( 787-791-1101 ) or LM Car Rental ( 787-791-1160 )
Rent or Bring your Own
It is best to bring your own equipment to the island.